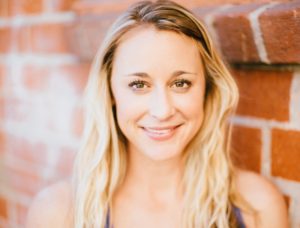 My Journey…
My personal journey has been filled with a copious amount of hard work, strong intentions, trusting my intuition, taking risks, enduring some pain and heartbreak, embracing the support of my family and friends, learning to say no when necessary and saying yes to adventures – but most of all focusing on living with grace, gratitude, laughter and love to get me through it all. Yoga has been an enormous place of support for me, as this is where I learned to cherish the journey of the unknown.
I believe in taking the time to discover your passions, building dreams and living your bliss.
I'm an east coast girl (Maine-iac born and bred) who moved to California over a decade ago. I grew up as a springboard diver, earning medals, accolades and scholarships along the way. My dedication to this sport included intense mental focus in overcoming fear, stepping up to challenges, quite a few tears, many bruises, and of course some self-doubt.
I had some amazing leaders and coaches with non-stop support on the outside, but I soon realized it was the internal mental game which would make or break my diving career. Thus, I chose to study sports psychology in college. This desire of focusing on mindset eventually led me to study abroad for five months in Sydney, Australia. This is where I dove (excuse the pun) even deeper into sports psychology and the mental and emotional aspects of excelling. I truly loved my studies.
After returning from Sydney, I felt an internal calling to make a major shift in my life. During my travels, I intuitively knew my environment back home needed to change. There was something about Sydney that took a hold of me – the city, the beaches, the healthy living, compassionate and loving attitude of the people, the adventures, embracing the unknown, and so much more. I decided to forgo pursuing graduate studies in sports psychology and instead move to Southern California. I sold my dream car, packed four bags and hopped on a one-way flight to Hermosa Beach, CA.
I took a risk to follow my heart, and my life was changed forever.
Throughout the decade of living in CA, I found incredible lifelong friends who I consider family, two dogs, a husband, numerous moves, devastating heartache, a divorce, some great jobs, some iffy jobs, major unforeseen changes and life transitions – but ultimately found my true self through all of this growth and have tried my best embrace every step of the transformation. Most recently, travel and adventures have stolen my heart.
The sunshine makes me smile, the salty ocean soothes my soul, and I believe love is everywhere when you choose to look for the beauty that surrounds you.
I have learned to trust the good times, the bad, and how taking risks to catch your dreams will ultimately help in creating the best life you were meant to live.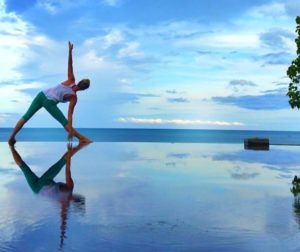 My Love For Yoga & All Things Wellness…
I have always had a deep passion for health and I understand how optimal wellness involves both the body and mind. Over the years, yoga has transformed not only my physical health, but improved nearly all aspects of my life.
In my early 20s I struggled with a pretty intense digestive disorder. After many years of turning to medical doctors, I realized that I was the key to overcoming this diagnosis and decided to take action. I was not going to play victim to this disease and simply cover up my symptoms with medications prescribed by the doctors. I decided read every book I could get my hands on, spoke with various nutritionists and naturopaths, became certified in a variety of health and wellness specialties including nutrition, food psychology, and health and wellness coaching. All of this research – and finding conflicting recommendations – was overwhelming and frustrating. I felt like my body was a monster attacking my spirit. I knew something beyond just changing my diet needed to change. I needed to dig deeper into my mindset, energy and more. I turned to yoga, meditation, mindfulness, and digging deeper into feeling my emotions at a more profound level.
It was when I turned to a regular yoga practice, increased my level of intuitive observation, and moved forward in the true direction of my desires in life that my physical, mental and emotional health truly began to change. I realized it was ALL connected. 
I initially began a sporadic yoga practice to complement my diving career in college, but when I made yoga and meditation a regular practice, everything shifted. Not only my health, but ultimately my career path and my passion for life re-emerged more fully. During this time, I also started to explore the use of essential oils and energy healing to bring everything into balance. The combination of yoga, meditation, nutrition, aromatherapy and energy work began to improve all aspects of my life.
I have personally experienced major shifts in life from focusing on my mind, body and soul's desires. Now, my deepest aspiration is to guide others along their own personal path to wellbeing and happiness. Knowing it's not a one-sized fits all approach, but a deeply mindful self study of what makes our own selves feel our best. It's about utilizing various techniques of holistic wellness, tapping into our intuition, and stepping into a more authentic and mindful way of life that will truly transform our health and happiness.
I teach yoga and coach clients with a sense of kindness, mindfulness, compassion and support. Whether you are new to yoga, or an experienced practitioner, I will help you deepen areas of your life to restore your body, mind and soul.
Love & light,
~Katie

In addition to my passion for yoga, I have previously managed and now consult Fortune 100 companies in developing and implementing Corporate Wellness Programs to improve the health, happiness and wellbeing of their employees.